TEACHING AT CHATEAU D'AIX
Advanced Class:

Debussy's Reflections in the Water from Images Book 1

Participant Kirsty Chaplin, from London's Royal Academy of Music, with Paul Roberts and Wendy Allnutt
---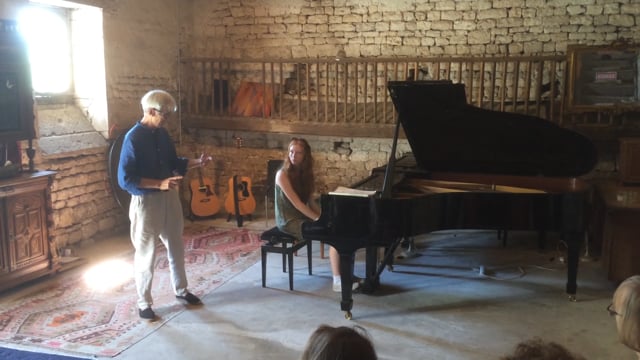 The discussion broadened to include a fascinating contribution from actress and drama teacher Wendy Allnutt, from the Guildhall School of Music & Drama. Formerly head of movement at the Guildhall, for the past few years Wendy has joined the summer piano classes to offer valuable insights from her experience teaching actors, especially regarding breathing, movement and the projection of narrative.
The background to this short clip was a discussion of the image of water in the Debussy, and specifically the three-note motif at the beginning, which the composer said should suggest pebbles dropping into water.
With apologies to Kirsty, and to our viewers, for the creaking piano stool.